The Cornell School was established in Fall 2016 by David and Oyendrila Kennedy. 
The Cornell School is a fully licensed and certified preschool located between Cedar Mill and Forest Heights in NW Portland, offering full day preschool for children, age 3 to 5.
​Set amidst 3 acres of wooded grounds with fruit trees, open green space, a natural stream, trails and wild life, the preschool is surrounded by the beauty of Mother Nature. Located in a new and eco-friendly facility with big windows, bright classrooms, and connection to outdoor learning spaces. This extension of our classrooms is where children are encouraged to be naturalists, imaginative, creative and curious learners as they explore, invent and build within the environment.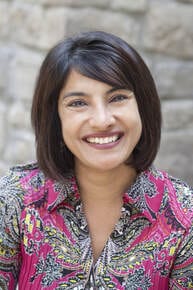 Oyendrila Kennedy - Owner/Director
Oyen holds a Bachelors of Arts in English, Journalism and Psychology from Mount Carmel College, followed by a Bachelors degree in Education from St. Xaviers' College. Oyen earned a Masters in English with a Minor in Child and Adolescent Psychology from Southern Oregon University. Her teaching experience of 24 years ranges from working with children from preschool to 8th grade level in private schools both in India and the U.S. She has taught preschool and kindergarten at Knowledge Beginnings, a flagship school of Knowledge Learning Corporation. She retired as a kindergarten teacher from A Child's Way Preschool and Kindergarten to start The Cornell School. While In India, Oyen volunteered her time to teach children living in poverty on the streets of Calcutta for many years and also offered her writing services while working closely with international volunteers at The Missionaries of Charity founded by Mother Teresa. When not busy running the school, Oyen loves reading, traveling, spending time with her family and friends, watching Netflix and Hulu, listening to music, cooking with spices and crafting with her daughter.
Dave Kennedy - Owner/ Chief Playground Architect and Builder
Dave holds a BS in Mechanical Engineering from Portland State University, a MS in Management in Science and Technology from OHSU, and a certificate in systems dynamics from MIT. Dave has worked at Intel for 20 years in various marketing, product management and business development roles and he currently manages the mobile workstation business. Dave's interests include traveling, scuba diving, mountain biking, and kayaking. His passions are sports cars and building things. Dave built The Cornell School and the playground which he considers works in process as he continuously works to improve the indoor and outdoor environments.
Monica Carlson - Music Director and Substitute Teacher
Monica has a BS degree in Child Development and Family Science. She has more than 15 years of experience as a private co-op preschool teacher, private piano teacher and volunteer as a children's music/singing time leader at The Church of Jesus Christ of Latter-Day-Saints Portland. She has also been the 4th/5th grade choir director for Terra Linda Elementary School for 3 years and is a volunteer Early morning Seminary Teacher at Sunset High School. Monica loves being a wife and mother to her 6 awesome kids- 5 sons and 1 daughter, ages 19-6. She enjoys hiking, gardening, cooking/baking, sewing, playing games and cheesy jokes.
Patricia Herzog - Director Math/Science workshop, Teacher mentor and Substitute Teacher
Patricia or Pat holds a BA in Child Development from Chico State and a Master of Science from Oregon State in Human Development and Family Studies, with a minor in Speech and Language Development. She completed the Elementary Teaching Credential Program and held a Multiple Subject Credential in CA as well as the Child Development Program Director Permit. She has taught for 30+ years in a variety of settings including:
Public school Kindergarten,
Junior College teaching and supervising student teachers in a Child Development La
Engaged with 24 preschool children and their familie
Taught courses in learning environments, math, and parent education
Directed a Private Full Day Preschool
Child Development Resource teacher for a County Office of Education.
Her passion is providing hands on, developmentally appropriate learning experiences for young children. Pat never tires of observing their creativity, enthusiasm and energy! Pat is also mom of two delightful adult children and one brilliant one year old grandson! She loves most sports, gardening, cooking and traveling.
Social Studies
Foreign Language
Music & Movement
Language & Literacy
STEM Based Math & Science
Cultural Awareness
Sensory Education
Fine Art
Practical Life Skills
Physical Education
Mindfulness & Yoga
Cooking Fundamentals
Sewing Principles
​The Cornell School was developed from decades of experience working with families and their young children. The need for a higher quality of education and balance for working parents became clear. While working for both educational and corporate institutions and seeking care for our own children, we developed a list of traits characteristic to the ideal school. As educators, we launched this vision into a reality, where families looking for a small, close knit, and loving environment for their children receive the best quality education imaginable. By prioritizing quality over quantity, The Cornell School is a preschool where teachers can connect with their students through multiple layers fostering a deep and authentic relationship together.